New Product Execution / Penetration and Retrial
---
Identify New Product Execution and Product Lifecycle
How quickly did we get the product to market?
What's the rate of re-trial or stickiness(blue line)?
What % of Customers have tried the product at least once (black line)?
Who tried once but didn't re-buy (the space between the black line and the blue line)?
Consider using our pre-built exception tests to isolate new products automatically.
% Distribution / Market Saturation Analysis
---
Of all the customers allowed to buy or in our target list, how many are buying vs are not (buy vs non-buy).
Easily jump to non-buy target list by toggling to grid view and double-clicking any non-buyer cell in the table.
Easily export to Excel or share a target list via a link.
Pick the area you are responsible for or any product and customer group.
Easily add a second timeframe like prior year or the prior 90 days to show gains or losses in distribution.
Re-group and change timeframes ad hoc.
Mix over Time & Cannibalization Analysis
---
Measure the % contribution of each product over time to judge the impact of new products and product mix changes on any category or product group.
Lasso multiple timeframes to compare the mix, total and average sales for different timeframes.
Easily identify which product assortment yielded the best results.
Pick any timeframe, any metric, and any product group ad hoc
Visualize and monitor cannibalization over time.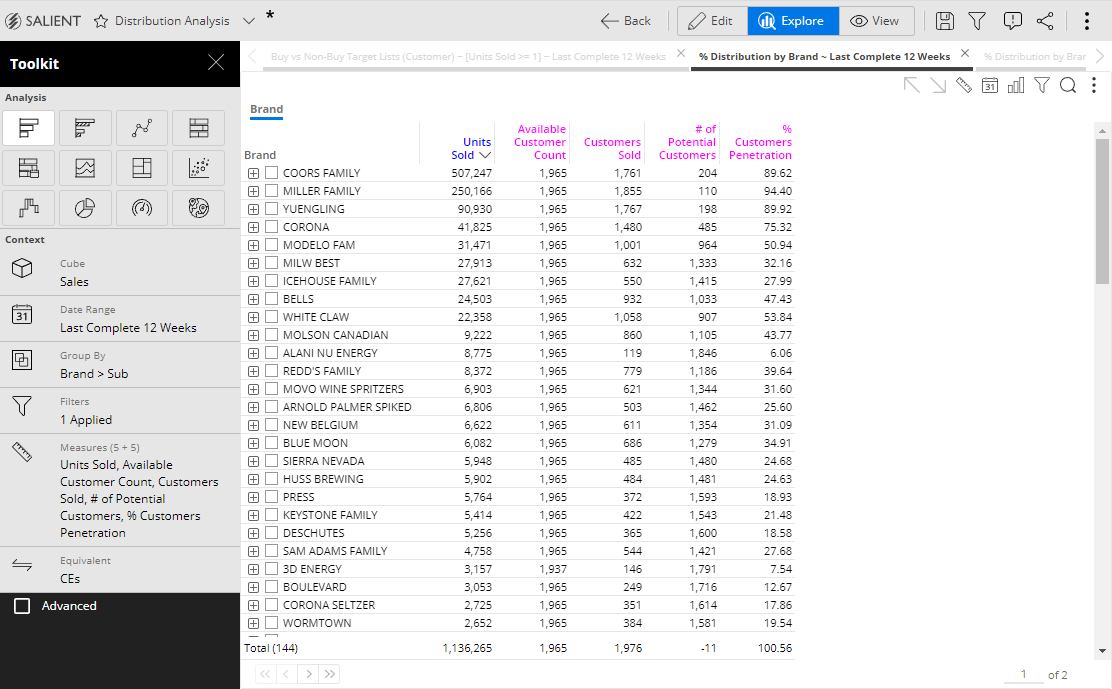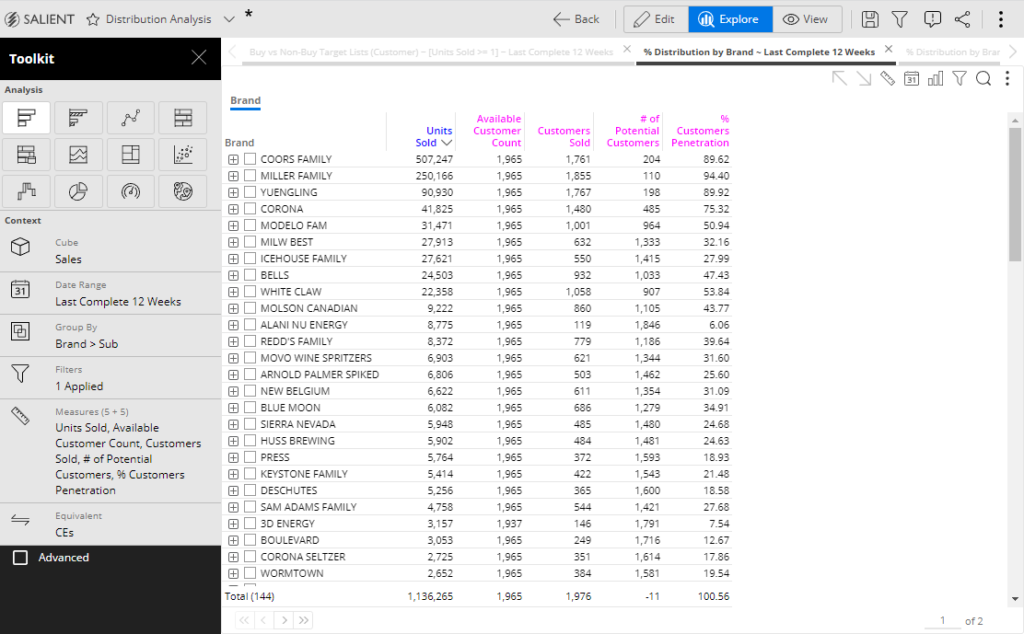 % Distribution Based on Custom Rules
---
The Comparative Analysis can factor in criteria or rules like 'authorized items' and make spotting opportunities much easier.
In this example, we are measuring % product penetration. Pick any channel, chain or customer group to measure and improve.
Double-click any row to drill-down
Use the underlined heading to re-group
Use the ruler symbol to switch metrics
Use the calendar symbol to pick any timeframe
Lost Placements
---
Automatically Identify Lost Placements
This analysis helps you easily identify which customers to prioritize and regain distribution where products had previously been purchased.
Templates provide visibility into 'New Placements' as well via another exception test pre-built for you.
Dynamic Time Frame Selection
Customize the Exception Rule
Push out with notifications or scheduled reports
Voids Identification – Crosstab
---
The Crosstab is perfect for 'spotting holes,' affectionately called the Swiss Cheese view.
Sub-Grouping is supported
Two time-frames are supported
Multiple metrics at once are supported
Pick any chain or customer group and product group combination ad-hoc to identify potential voids and cross-selling opportunities.
Trend Analysis
---
Identify pre, during & post change impacts
The Salient Trend pre-set analysis is not simply a line trend. Salient has pre-programmed hot spots to lasso periods on the chart to provide popups indicating totals and averages so the impact of price changes, promotions, plan-o-gram resets or other decisions can be very easily measured and annotated with the annotation tied to the points on the timeline.
End users can tailor the metrics to the situation, filtering on any area of the business and rubber-band pre vs post change impacts very easily.
Scattergram / Scatter Plot Analysis
---
Scattergram Outlier Identification
This analysis isn't just a chart of a scattergram. The pre-set has rubber-banding the presents a list that becomes a new starting-point for investigation. Drill-down into the resulting list, choose the 'explore' option from the top-right 3 dot menu to take the outliers and group them for a trend, compare their numbers vs another time period or regroup the data to product to see what the root cause of what's driving those positive or negative outliers.
P&L Layouts
---
Get an extensive breakdown on cost and profitability by any grouping or individual member.
Our P&L formats have many layout options for viewing single or multiple members and can be swapped or viewed in a scorecard mode as well for quick summaries. Calculated fields can be expanded into their components. Measures can be custom grouped based on your logical names. Measures can be renamed by authorized builders. User rights, including field security apply so the same P&L dashboard may look different to different roles.
Elasticity
---
Elasticity of Demand
Many advanced calculations can be performed directly within Salient and the results provide extremely fast re-calculating as you filter on a chain, channel, brand or timeframe to evaluate scenarios like how elastic pricing is in certain market segments.
Advanced Allocations
---
Allocate Off-invoice Trade
Understanding Customer Profitability after all the off-invoice promotional deals, customer agreements, slotting fees, supplier support or other non-transactional costs can be a challenge. Salient can help you take those dollars and spread them to the timeframes, customer and product groups they apply to. This utility pulls the segmentation from our database and enables users to enter their allocations, import them. If you already have a tool for Trade Spend or Allocations, we can sync those records from another system to avoid double-entry.