Salient Software Suite
Our high-performance, industry-proven software suite creates business intelligence. Connect to all your data in an instant, pulling many disparate systems into one source of the truth. Our business intelligence and analytics platform allows you to perform complex analyses and data visualizations wherever you are.
Desktop
The most powerful tool in our business intelligence software suite. Salient Interactive Miner combines visual data mining with a focus on value added. Interact, drill, and find extra value at all layers of your data. Gain access to the deepest possible accounting of your organization and rely on enhanced data visualization to improve performance.
Dashboard
A powerful, business intelligence, dashboarding platform that gives users the ability to investigate and share meaningful information. Easily and quickly explore the relationship of your data with superior visibility. Scaled for your enterprise, Salient Dashboard Miner is a solution made for all levels of your enterprise.
Mobile
Salient Mobile brings the analytical power of Salient Dashboards directly to iOS, Android, and Windows phones and tablets. View, sort, filter and drill down with a touch of your finger. All published Salient dashboards are instantly available in Salient's mobile business intelligence application. A business intelligence platform wherever you are.
Salient Interactive Miner
Salient's desktop client, Salient Interactive Miner, is the world's fastest and most scalable business intelligence solution. With zero latency; you can easily manipulate millions of rows of data any way you see fit and have an answer instantaneously. Select, group, or filter your data and then drill into it to see relationships at each level. Gain a complete understanding of all your data.
With many customize-able features SIM can be easily tailored for your individual success. Salient Interactive Miner will save your business on its two most valuable resources, time and money.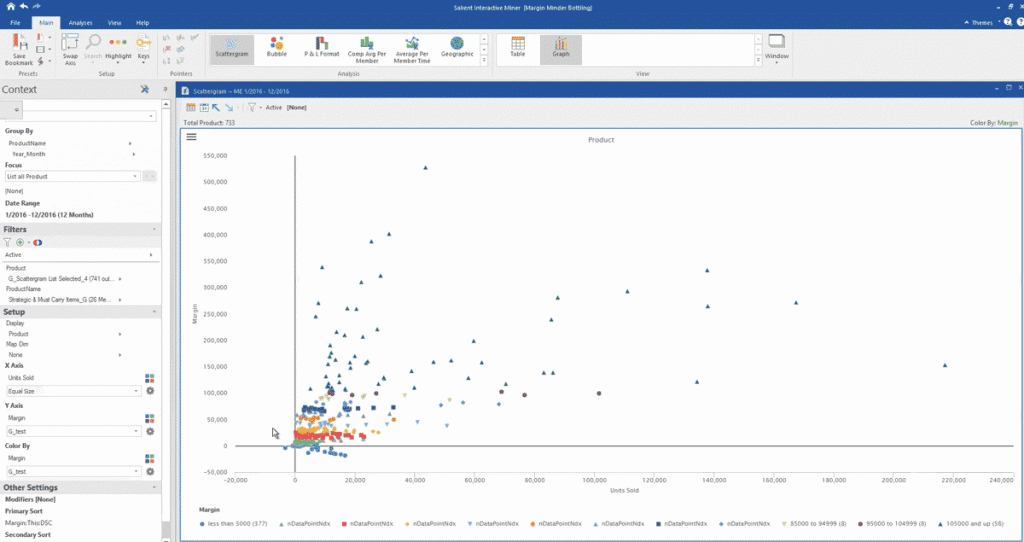 Salient Dashboard Miner
With the power of Salient Interactive Miner, Salient's dashboarding business intelligence tool is accessible from any web based device, allowing your business users to gain insights from wherever they are. Allow your business users to consume exactly the information they need, whenever they need it.
Salient Mobile
All the power of Salient's dashboarding solution, available on any mobile device. . Select, swipe and filter your data all with a tap of your fingers. Take your data with you on the go with any of your devices, and have access to your data even when offline.
The mobile app was a game changer for us. Our key account people rarely stay in the office, and so now through their tablets and smart phones they're able to see what's going on and then figure out how to sell something from the data.

Ed Foree, Sales Standards and Process Manager, Coca-Cola UNITED