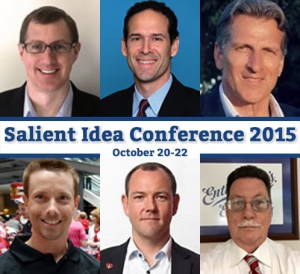 The Salient Idea Conference is Salient's annual event that showcases the ideas and practices which make big companies successful. It will give the attendees the tools and knowledge to succeed, and will boast some of the greatest business minds in their respective industries.

Paul DePodesta, NY Mets VP of Player Development and Scouting, Entrepreneur & Subject of Moneyball, has made a career of evaluating, measuring and assigning value to talent. Attending his lecture on "Moneyball: The Art of Winning an Unfair Game" will help all attendees to learn the value of analytics in business, and how to use information in a practicable application. Read more about Paul here.

James Harrington has spent the last 18 years in the distribution industry in a variety of roles ranging from programming and implementing TMS and WMS solutions, through to his current role as the Director of Technology Services for Wirtz Beverage Group. In James' topic "Creating Dashboard Portals for the Enterprise & Beyond" will showcase the use of actionable data on sales and distribution activity, and how pervasive and important that information can become. Read more about James here.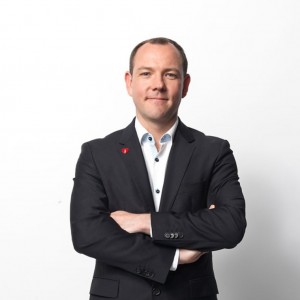 Marcus Franke is the Director of Business Transformation at Germany's largest beverage bottler, Coca-Cola Erfrischungsgetränke AG (CCEAG). Marcus will speak on "Improving Enterprise Business Performance" and show how your organization can gain greater visibility in your organization and drive better performance. Read more about Marcus here.

Dean Aiello is a Finance Director with Bimbo Bakeries USA, a division of Grupo Bimbo; a world leader in baked goods. He will speak on "Harnessing Data from Scan Base Trading for Waste Elimination, process oversight and Improvement." Dean will present the past and current challenges of Bimbo Bakeries, and where the future of Bimbo lies, using the narration as context for exemplifying the benefits of analytical analyses and mobile analytics. Read more about Dean here.

Marc Bloomstein leads sales and profit analysis efforts as the Director of Financial Planning and Analysis for New England Coffee, a division of Reily Foods Company. He will present on "Improving Decision-Making at the Point of Value Creation," and will demonstrate how New England Coffee provides timely, actionable knowledge on demand in real-time; exhibiting its use especially for the sales force, and the specific tools to use. Read more about Marc here.

Eric Frantz has held management and consulting positions with Salient, Cincinnati Milacron, Ernst & Young, Goulds Pumps ITT, Xelus, eLogic Group, QAD, Infor and as an independent. He will demonstrate a general understanding of Salient's methodology on defining and measuring value, and how that is created. Eric will exhibit how Salient can provide productivity and profit to every organization. Read more about Eric here.
With these leaders in their market, and successful businessmen all, no one should miss the opportunity to attend the Salient Idea Conference.