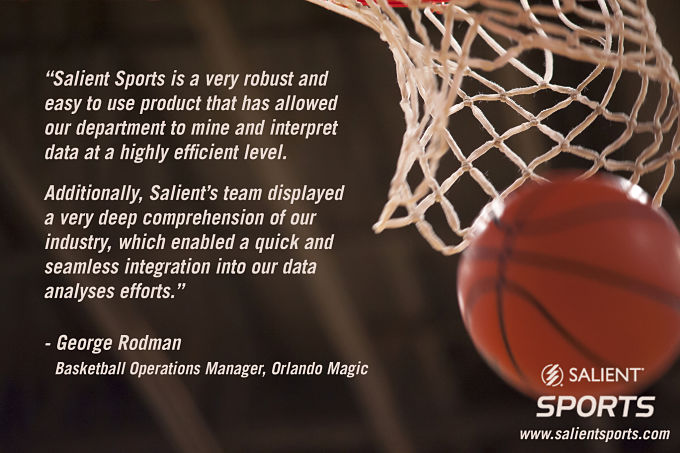 Salient Management Company CEO Guy Amisano shared a major announcement at the conclusion of the 2015 Idea Conference in Orlando last month: the official launch of Salient Sports!
By leveraging Salient's innovative approach to honing and improving processes that are informed by real-time analytics, sports teams will be empowered to excel beyond expectations to make smarter, timelier decisions.
Spearheading Salient's Sports division is Jason Coleman, a seasoned sports analytics expert who spent years in the NBA developing reporting systems and analysis tools. Coleman's wealth of knowledge and experience, combined with Salient's process improvement technology, gives Salient Sports an unparalleled capability to deliver faster, more efficient reporting to accommodate the hectic lifestyle of professional coaches. As Coleman explains:
It can take an analyst up to a few hours of getting all the necessary analyses and reports created. But with our solution in hand, it's all done in 5 minutes. Within one click, reports are ready and printed. The analytics are customized in the format that the coaching staff wants to see, and more importantly, they're relevant to their coaching style.
With a robust solution that includes more than 100 customized reports, Salient Sports will help coaches and their analysts make informed, strategic decisions, accounting for factors such as lineups, player matchups, and competing teams' strengths and weaknesses. Before tip-off sets the game in motion, Salient Sports will ensure that the entire team is well-informed and ready to execute their winning strategy.
Learn more at Salient Sports.