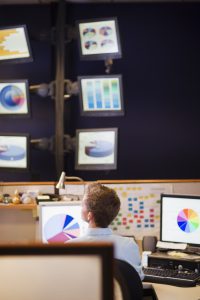 At the core of the Salient business philosophy is a deeply held belief that "there is never a reason not to know."  We believe that at the point of value creation of any successful business you will find empowered people making timely decisions that improve profitability and generate positive outcomes.
As this article states – When cultures authentically commit to being data-driven, data can literally dictate what you and your colleagues should do next.  There is a multitude of truth in that one statement!  If information [data] is embraced, as the NY Times noted, "Explanations like 'we're not totally sure' or 'I'll get back to you' are not acceptable" because with the right analytical software information is at the fingertips of every employee at all levels of the organization from the C-suite on down to every employee.
Data is the food with which an organization sustains itself. Data and insightful analytics inform and equip the entire company and if used properly optimize profitability and improve outcomes. For example, Amazon has built a culture of using data to drive creativity and productivity. They believe that data is a tool that will create a culture for employees to conceive and advance new ideas that can transform the company into a profitable and productive environment.
"At Amazon's cultural core, however, data and meaningful analytics are fuel and enzyme for innovation and inspiration. Outliers aren't artifacts or aberrations; they're gateways to new markets, novel technologies, or transformative insights… Yes, you must respect and hit your "core metrics" but data truly liberates the enterprising intrapreneur."
At Salient this is music to our ears. An organization that places timely data in the hands of employees at the point of value creation, and also empowers those employees to make informative decisions, will not only succeed but also will thrive and outperform their peers.
Data-driven management is a liberating principle that can drive profitability and productivity for your company, as Amazon has proven.
Source and full article via Harvard Business Review.