I started writing papers or giving talks at global conferences on the topic of disruption and digital transformation in the fall of 2019. Within a few short months, a world-wide pandemic was declared and COVID-19 was taking lives globally. This deadly virus continues to create both social and economic disruptions.

Our world had already been experiencing industrial disruption (aka Industrial 4.0), but adding this social and economical disruption changed how we do business. Regardless of your business being in financial services, manufacturing, healthcare, or retail.

The term disruption often connotes negativity, when it should be considered an opportunity for positive change. The closing of one door is the innovative opening of another. Now is the opportunity for some organizations to create and proliferate.

There are several impacts due to the disruption of this level. One is innovation. Innovation usually is the cause of industrial disruption. What we are currently experiencing with social distancing, home quarantines, and restricted travel is that the disruption is causing the innovation. The innovation to adapt to our "new" life and redefine how we do business and meet our customer's needs. The disruption of today compels new thinking and behaviors that end one trend, giving rise to a new one.

Another impact is the technology and cultural changes, both within organizations and society. These changes breed new consumer behaviors, which consequently inspire novel approaches to marketing and selling. Consider the difference in motivation between Millennials and previous generations. The consumer is changing; they are less loyal and more unpredictable.

A third impact is a shift from physical to virtual. The increasing awareness and usage of mobile, cloud and networked communities present a disruptive challenge of selling to consumers who only exist virtually. Consumer pricing questions are a touch away, and the need to react faster is more important than ever before.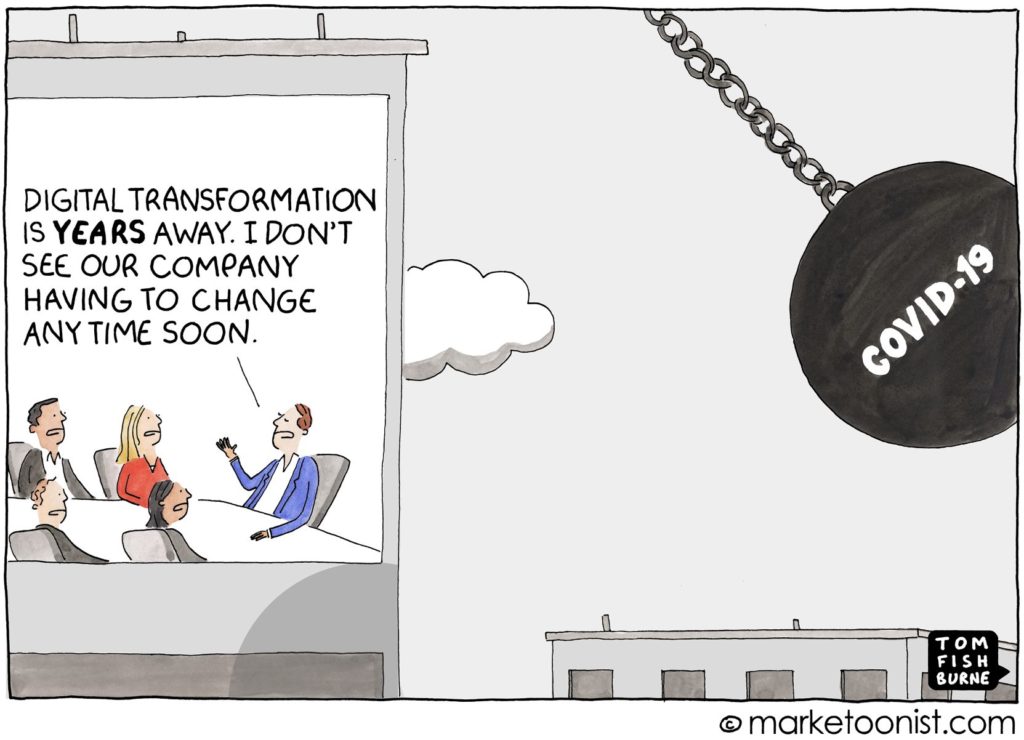 Other results due to disruption are leveraging analytics for root cause analysis, on-going improvements, and real-time awareness of business performance. If organizations are going to survive any form of disruption, being able to make decisions at the speed of thought based on business performance and the fast changes in market conditions are not only critical, but essential. Organizations need to get good at three things and fast.

The first is remote internal collaboration. Organizations need to turn organizational data into business insights. Linking all data sources, regardless of complexity, and providing access to decision makers across the organization will create a knowledgeable, empowered enterprise.

The second is independent effectiveness and efficiency. A culture that promotes self-service analytics and citizen analytics. Having the right information in the right hands, at the right time. Thereby, allows the users to leverage analytics for on-going improvements and efficiencies, real-time communication with the customer's needs, and timely decision making that will benefit both the organization and consumer.

The third is client intimacy. Our world is moving from physical to virtual. For an organization to thrive, they must shift to mobile, cloud-based access, networked communities, and vendor portals. The impacts due to changes in technology and how we use technology breeds new consumer behavior.

With disruption comes opportunities for everyone and all organizations. These opportunities must allow enterprises to redefine how they work and adopt a better way to serve their employees and customers. It forces our hand to "be" digital not "do" digital. The disruption of today compels new thinking and behaviors that end one trend while giving rise to new awakenings that previously didn't exist.