Companies that successfully achieve their Digital Transformation are racing ahead of their competition.
Per Sandy Shen, senior research director at Gartner, "This (COVID-19) is a wake-up call for organizations that have placed too much focus on daily operational needs at the expense of investing in digital business and long-term resilience. Businesses that can shift technology capacity and investments to digital platforms will mitigate the impact of the outbreak and keep their companies running smoothly now, and over the long term."
Companies can begin to invest in digital business and long-term resilience in three main ways: improving remote internal collaboration, fostering independent effectiveness and efficiency, and creating strengthened client relationships.
Strategic business solutions, like data & analytics platforms, will increase an organization's resilience to future disruptions and are pivotal to their digital business ecosystem. In order to integrate these efficiencies into daily business operations and transition to "being" digital, an organization should follow a digital transformation roadmap.
The foundation of the roadmap consists of the three critical components: People, Process, and Technology. The combination of these three components create the cornerstone of the company's infrastructure. How an organization approaches each of these components is crucial to its long-term success.
The digital transformation roadmap is not a cookie-cutter approach, but rather an orchestrated on-going event with complex, multiple parts that are tailored to the organization and their strategic goals. The first step is to understand an organization's strategic objectives and how the components of People, Process, and Technology integrate into these objectives.
A company culture is comprised of its people, the most valuable component of an organization. To successfully complete a digital transformation, an organization must have the right people with a clear vision and skill set to develop and implement a digital ecosystem.
A study by Dell Computers found two of the key reasons for digital transformation initiatives failing are people-related. One is a lack of executive support, and the second is a lack of skills within the business to develop and execute on the digital strategy.1
Processes need to be robust and agile to change. Processes, coupled with the people, need to be designed so that people work more effectively, make smarter decisions based on insight that available data provides, and utilize the right tools that enable them to be self-sufficient.
Finally, technology supports and is supported, by the other two critical components, people and process. Technology is the enabler of change. If the technology of an organization does not consider the processes and people, the result will be isolated information and inefficiencies across the organization.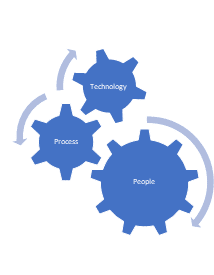 In today's world of digital disruption, it is not enough for organizations to merely be "up-to-date".  They need to be ahead of the curve and embrace the future before it even comes. Organizations that are forward-thinking, risk-taking, and promote proactive decision-making at the individual level will be resilient and successful.
style="display:flex;justify-content: center;">