Interactive, Web-based Dashboards
Salient Dashboard MinerTM (SDM) — featured in the Salient Collaborative Intelligence Suite 5.0TM — allows you to access, drill, and analyze your data online. There is no software to install. Simply access by secure login from any computer, tablet or smartphone.
SDM is a pure thin client application (web-based) that sits on top of the Salient UXT® database; it is flexible enough for everyday use, yet powerful enough to support information sharing and corporate collaboration. SDM supports the classic business-user dashboard model of "build and publish," but goes many steps further. Go beyond the surface, interrogate findings, and identify the actionable details within any dashboard.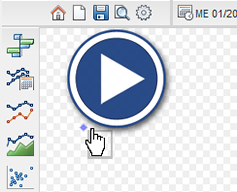 Easy to Build Dashboards
SDM Capabilities:
Fast, flexible and drillable
Drag & drop building
100% Web-based client – no apps to install
Safe & secure sharing
Unparalleled data mining capabilities
Interact on tablets and smartphones
Client Quotes
"Salient's solution has helped us become much smarter manufacturers."
Randy Bates, Executive Vice President of Sales and Marketing for Golden Flake

"Salient's solution helped us achieve about a 10% improvement in accuracy and proficiency."
Mark Keith, Allen Beverage

"With Salient, we were able to identify an enormous amount of [dental] referral fees without referrers. We estimate a recovery of between $6 to $7 million in dental probes alone."
Mary Kay Delgiacco, Manager of IT Services, NY Office of the Medicaid Inspector General